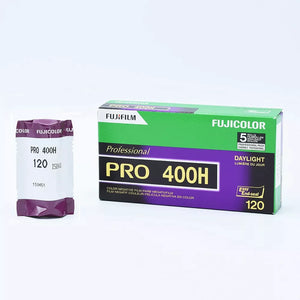 Daylight-Balanced Color Negative Film
ISO 400/27° in C-41 Process
Unobtrusive Grain, Fine Sigma Technology
Soft Contrast and Wide Exposure Latitude
Fourth Color Layer and Interlayer Effect
True Color Accuracy in Various Lighting
Smooth Color Gradations and Skin Tones
FUJIFILM Fujicolor PRO 400H Professional is a high-speed daylight-balanced color negative film with a nominal sensitivity of ISO 400/27° when processed in C-41 chemistry. Featuring fourth layer color and Interlayer effect technologies, this film exhibits a soft contrast profile with faithful, yet vivid, color reproduction. It produces smooth and natural skin tones and has a broad exposure latitude, making it suitable for general photographic applications and working in a wide variety of lighting conditions. Additionally, Fine Sigma Technology yields an unobtrusive, fine grain structure that helps to maintain effective film speeds and produce smoother surface textures to benefit scanning and printing applications.
This item contains ONE roll of 120 format roll film.
Faithful color reproduction of scenes under a wide variety of lighting
Excellent three-dimensional appearance
4th Color Layer Technology with enhanced optimization of spectral characteristics