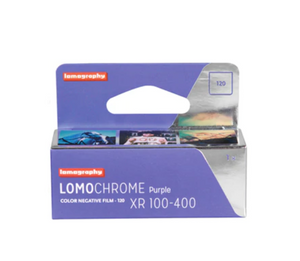 Product Highlights
Surreal Purple-Hued Color Negative Film
ISO 400/27° in C-41 Process
Can Be Overexposed by 2 Stops
Exposure Directly Affects Color Response
High Sharpness and Fine Grain
Rendering colors reminiscent of infrared film, Lomography's LomoChrome Purple XR 100-400 is a unique negative film designed to produce false colors with an overall purple hue. This ISO 400-speed film responds well to overexposure by up to 2 stops, which can be used to control the amount of color shifting within the scene. Beyond the surreal color effects this film provides, it is also contextualized by high saturation, fine grain, and notable sharpness.
This item is one roll of 120 format roll film.
This creative color film intentionally renders false colors, where blue becomes green, green becomes purple, and pink becomes yellow. Red and skin tones remain neutral for a unique effect when photographing people.
The film's nominal sensitivity is ISO 400/27°, but responds well to overexposure by up to 2 stops (EI ISO 100/21°). When overexposing this film, green tones will begin to take on a darker indigo shade rather than a bright purple hue.
Beyond the unnatural colors produced by this film, it also exhibits high sharpness with a fine grain structure.
Color negative film should be processed in standard C-41 chemistry.